Strategies to Take Control, Develop Purpose, Build Perseverance and Enhance Performance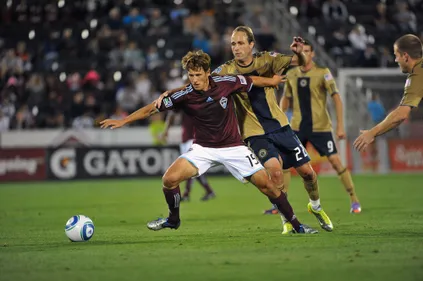 Wells Thompson, Colorado Rapids, 2010 MLS Cup Champion
Does your player...
Get nervous, overthink or lose confidence in games, especially against tougher competition?
Become discouraged and stop working as hard when they or their team make mistakes or experience setbacks?
Have potential to play at a higher level and their mindset is the biggest thing holding them back?
If your player experiences any of these challenges or other challenges regarding the mental side of soccer, keep reading.
How many times have you seen your player and coaches put in countless hours of hard work and training to improve your players' skills, tactics and athleticism, only to see stress and anxiety rob your player of their enjoyment and performance in big games and high pressure moments?

We believe players should be rewarded for all of their sacrifices and training by feeling confident and performing at the top of their true abilities!
Dr. Brad Miller, licensed clinical psychologist, has spent over 20 years helping youth, adults and athletes learn how to overcome difficulties and grow while experiencing adversity. As a former Division I soccer player at Wake Forest University, Dr. Miller knows how his mindset helped him grow. At other times, his mindset fed his performance anxiety. As a psychologist, Dr. Miller has learned that perseverance and controlling our performance anxiety are like a muscle. Any player can strengthen these mental skills, if a player is willing to work hard, step outside of their comfort zone and use strategies.

Our growing Soccer Resilience management team includes a 20-year Clinical Psychologist & ACC Champion, Brad Miller, Psy.D., an MLS Cup Champion, Wells Thompson, and more. As former Division I NCAA players who love the sport of soccer, we believe the psychological elements of the player, coach and sport are vital. That's why we believe that strengthening your mind is as important as strengthening your technical, tactical and physical abilities.
We created Soccer Resilience to help youth, college and professional players develop the mentality that is crucial for growth and improvement. We know the ups and downs players go through and have developed a road map for players to learn the four pillars of Soccer Resilience:

Take Control
Develop Purpose
Build Perseverance
Enhance Performance
Together, we'll determine how we can best help you as a player, team, coach, parent and club or organization.

We provide players with a wealth of knowledge and expertise from a former MLS player, a Division I Head Coach, a Clinical Psychologist, and more. With the COVID-19 pandemic, now, more than ever, players need support in strengthening their resilience both on the pitch and in life! Please visit Soccer Resilience for more information.

Train Your Brain. Transform Your Game...AND Life!